Rachel Jones
From chrismoyles.net Wiki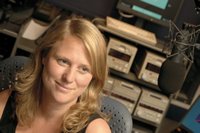 Rachel Elizabeth Mallender (née Jones) (born 29 March 1974 in Kidderminster, Worcestershire) was the producer of The Chris Moyles Show - and the longest serving of any of Chris's previous producers.
Early career
Rachel went to school at Wolverley High, Kidderminster, before moving on to further education at Kidderminster College. Rachel took A-Levels in History, Home Economics and Combined English Language/Lit, before moving to Bournemouth University to study for her degree in 1992. She graduated three years later with a BA (Hons) in Media Production, completing her studies with a one year journalism course in Falmouth. She started out reading traffic and travel on local radio, and also did work experience on her local paper, The Kidderminster Shuttle. Whilst at university Rachel worked on student magazine NERVE.
Work with Chris Moyles
In summer 1997 she joined Radio 1 as a broadcast assistant; helping out across the schedule on various shows. She first worked with Chris Moyles a couple of years later on his Saturday Mid Morning Show, and became a permanent fixture alongside Producer Richard Murdoch, Chris and Comedy Dave. Rachel would pick the callers for features such as Girls Going To Football and Gargling, and take part in popular feature Hello.. I'm Listening!. Her infectious laugh soon helped make her a popular member of the team.
In June 2001 Richard left the programme, so Rachel took over as producer. The show ended three months later, replaced by Jamie Theakston. Rachel went on to produce a series of other weekend shows, including Backstage, Colin and Edith and Scott Mills. She also deputised for Will Kinder, filling in as producer on Chris' weekday afternoon programme when Will was on holiday.
Rachel took over as producer on Monday 29 September 2003, following Will's departure to TV company Tiger Aspect Productions. Just nine days later, the announcement was made that the show was moving to Breakfast, and she was part of the team that launched the new programme in January 2004. An early recurring feature of the show was her weekly weigh-in and her diet in general. Since then, she's opened the lines for Car Park Catchphrase in her own unique way, become a man in her alter ego Tranny Rachel - and been constantly impersonated by Chris. Some of her most memorable moments included the time Chris impersonated her weekend in Paris, and the time her stalker was on the show. Rachel produced the outside broadcasts from Euro 2004 and World Cup 2006, and was part of the Red Nose Rally team that toured the UK for Comic Relief.
In 2006 she was named UK Radio's Producer Of The Year by the British Radio Awards, and was part of the team that won a Gold Sony Award for Entertainment.
In March 2010 she left her role as day producer to take on the new role as executive producer for the show. On 18 August 2010, it was announced that she was moving to day producer on weekends, finally ending her run on the show.
Personal life
Rachel is a football fan and famously supports Conference team Kidderminster Harriers, and has done since she was 16. She doesn't describe herself as a die-hard supporter, but took the whole team to see them play Macclesfield Town in September 2004. In January 2005, she appeared in a photoshoot for mens magazine Zoo, where she declared her "boobs are bigger"than those of Abi Titmuss. Her TV credits include Reverse-A-Word on Challenge TV and BBC1's Top Of The Pops. She has been seeing her now-husband Mally since 2005, and said of her future: "I am an ambitious person and I would like to go into management in radio, or try my hand at American radio to add more strings to my bow".
In 2009, Rachel married her long term boyfriend, Mally.
On 11 November 2011, Rachel gave birth to a baby boy called Evan at 3am.
Trivia
She appeared on Blue Peter dressed as a penguin when she was eight years old.
She is often on the Weight Watchers points diet, and likes a good detox.
She likes Um Bongo and knitting.
She fancies Brad Pitt and George Clooney.
In 2006, she went skydiving with the Red Devils.
Oh, and she's run the London Marathon don't ya know.
Contact Information
Twitter:
@ProducerRach
Facebook:
N/A
Youtube:
N/A
Email:
N/A
Agent:
N/A
The Chris Moyles Show (Radio 1)
Team Members:
Final Lineup:
Chris Moyles, David Vitty, Dominic Byrne, Tina Daheley, Aled Haydn Jones, Freya Last, Pippa Taylor-Hackett, Other contributors
Past:
Rachel Jones, Carrie Davis, Matt Fincham, Juliette Ferrington, Samantha Moy, Jocelin Stainer
Regular Features:
Dave's Tedious Link, Rob DJ's Monday Night Pub Quiz, Car Park Catchphrase, The Golden Hour, McFly Day
Downloads:
Full Shows (2004, 2005, 2006, 2007, 2008, 2009, 2010, 2011, 2012), Podcasts