David Vitty
From chrismoyles.net Wiki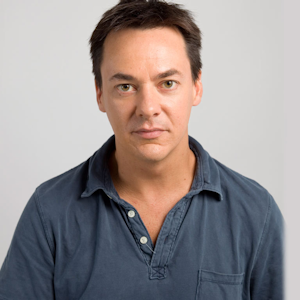 Dave Vitty
David Lloyd Vitty (also known as 'Comedy Dave') was officially the head writer/director of comedy on The Chris Moyles Show, although he is more commonly referred to as Chris' "sidekick".
Radio Career
Dave was born on 24 April 1974 in Hong Kong where he attended Glenealy Junior School. He then moved to attend secondary school in Bedford, England between the age of 11 and 18, before going to college in Warrington from 1992 to 1995 studying a Media and Business course at North Cheshire College. Dave then landed a job at the BBC Monitoring Centre in Caversham, Berkshire, where he worked as a researcher, producing music copyright reports for Radio One. He joined Radio One in December 1996 to work as a technical operative. On his first day at the station, Nicky Campbell threw a mini disc at his head, and soon after Dave pulled the Simon Mayo show off the air in a technical mishap, which he says nearly ended his career.
Dave met Chris whilst working early mornings as the London-based "button-puncher" on Mark and Lard's ill-fated breakfast show, which was broadcast from the BBC's Oxford Road studio in Manchester. They got on with each other as mates, went to the pub (a lot), and were soon throwing ideas around. Eventually an opportunity came up to work as a broadcast assistant on Chris' 4-7am show. Dave took it, and the rest as they say is history.
The nickname "Comedy Dave" was originally suggested ironically by comedian Lee Hurst (best known as a team captain on the sports quiz They Think It's All Over), to highlight the fact that Dave wasn't very funny. Although the tag stuck, we have since found out his original nickname was "Super-Dave". Dave was an ever-present on the show through the years, and helped contribute some of its finest moments. His work includes devising spoof adverts, sketches and many of Chris' legendary song parodies.
Although his most famous feature was his daily Tedious Link (launched September 2002), he was also the brains behind many other items, including hit quizzes Car Park Catchphrase and Viaduct - plus the less successful Frog Or Dog, King Of Tickets and Dave's Dictionary Definitions.
In 2018, it was announced that he was to return to radio as part of Key 103's breakfast show, meaning that he would be going head-to-head with Chris Moyles.
Television Work
His TV work includes co-hosting The Chris Moyles Show on UK Play in 1998-99 (where he famously stuck carrots up his nose), plus appearances on Match of The Day 2 and Reverse-A-Word, a self-devised quiz show piloted by Challenge TV in 2004. He also co-presented a sports programme on Nuts TV called Shed Sports One. Dave and Dominic Byrne appeared on the BBC Two daytime cooking challenge show Ready Steady Cook in 2007, with Dave winning. In 2009, he appeared as a contestant on BBC Two show Celebrity Mastermind. His specialist subject was British Motorways, and he finished third overall. Also in 2009, he competed on BBC One game show Hole In the Wall. In early 2011, Dave was a contestant on the ITV celebrity ice dancing show Dancing On Ice, partnering professional skater Frankie Poultney. They finished in ninth place overall, out of sixteen. Also in 2011, he guested on Chris Moyles Quiz Night on Channel 4 as a question setter.
His TV voice over work includes Channel 4's Coach Trip, which he provided the voice-over for from 2010 until 2012.
Other Work
Dave has also been a founding member of short-lived musical outfits Ghettolife and Folkface, along with TCMS colleague Dominic Byrne, playing with the latter at Glastonbury 2005. Dave, along with his colleagues from the Chris Moyles Show, was also a member of Mouldy Lookin' Stain, who had a number one hit on the download chart with a parody of Goldie Lookin' Chain's hit "Guns Don's Kill People, Rappers Do" entitled "Dogs Don't Kill People, Rabbits Do".
Dave is also a passionate football fan and a big supporter of Everton FC. In 2001 and 2003 he helped raise over £300,000 for Comic Relief by collecting football memorabilia from across the country with Mark Chapman. Since 2003, the pair have also hosted their own show on Radio 1. Chappers and Dave were given an extended summer run in 2004. They also regularly perform DJ sets at venues across the UK, as part of their "World Tour".
Dave has also appeared as a presenter on BBC Radio Five Live and is a frequent guest on Richard Bacon's show on the same station.
Vitty's debut book, Comedy Dave's Book, was published on 11 November 2011.
In 2013, Dave became a Talent Consultant for the charity Cancer Research UK. He helped launch a production company in 2014 called Stripey Horse, where he took the role of Head of Development.
Personal Life
Dave settled down and married fiancée Emma Pontefract on 23 August 2003, however they divorced in September 2006.
He then married TV presenter Jayne Sharp who was formerly a runner on 'The Chris Moyles Show' and used to date Chris Evans. They had a daughter, Nicole, in 2007, but Dave and Jayne split in April 2011.
Following the end of the Chris Moyles Show, Dave and Dominic Byrne went on tour as Folk Face, playing gigs around the UK. In January 2013, Dominic announced that the band had come to an end.
In autumn 2012, newspaper reports appeared claiming that Chris and Dave were no longer on speaking terms, due to Chris going on holiday with Dave's ex-wife Jayne, though the pair have not as yet confirmed or denied the accusations.
Trivia
He speaks a little Cantonese and used to work as a waiter
He once had various stalkers
He is famous for being rubbish at Maths
He is managed by Noel Gay Management and not Dave Vitty Management
If he could have any wish, it'd be Everton to win the Premiership
If he could be any animal, he would be a giraffe
Contact Information
Twitter:
@davidvitty
Facebook:
N/A
Youtube:
N/A
Email:
N/A
Agent:
Guy Robinson: 020 7099 0050, info@hyperagency.co.uk
The Chris Moyles Show (Radio 1)
Team Members:
Final Lineup:
Chris Moyles, David Vitty, Dominic Byrne, Tina Daheley, Aled Haydn Jones, Freya Last, Pippa Taylor-Hackett, Other contributors
Past:
Rachel Jones, Carrie Davis, Matt Fincham, Juliette Ferrington, Samantha Moy, Jocelin Stainer
Regular Features:
Dave's Tedious Link, Rob DJ's Monday Night Pub Quiz, Car Park Catchphrase, The Golden Hour, McFly Day
Downloads:
Full Shows (2004, 2005, 2006, 2007, 2008, 2009, 2010, 2011, 2012), Podcasts