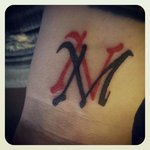 - Sat Aug 20, 2011 3:48 pm
#446762
Today's Tedious Link:
All Saints, Never Ever
Today's Transcript:
Black grapes are what vineyard owners use to make red wine. 'Red Red Wine' was a hit for UB40, who are named after an unemployment benefit form. Unemployment benefit is something you might get from the post office, as are stamps. Stamps are what you stick on letters before you put them in the post. The post is delivered by the Royal Mail. Male is one of two sex options to choose from when filling in a form. Form is a word also associated with schools, which is a word also associated with fish. Fish are caught using nets, while different types of nets are used on tennis courts. Tennis courts are where you might go with balls and a racket. 'Racket' rhymes with 'jacket', which is what you'd see on the outside of a potato. Potato prints involve carving shapes into a potato and dipping it into paint. If you swap the 'P' of 'paints' for an 'S' you get 'saints', as in All Saints, which links to All Saints and 'Never Ever'.
Flaws:
Red wine is not made specifically from black grapes. The production processes of red wine are different from those of white wine, but in that the skin and seeds of the grapes remain with red wines, but are removed for white wines.
Tedious Facts:
Released - November 1997
Highest UK Chart Position - #1
Bas wrote:She's the Tina Daheley of chrismoyles.net
Missed any of Dave's Tedious Links? Catch up with my Tedious Links 2010-12 page here