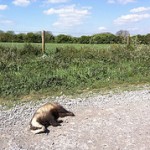 By
a-moron
- Fri Dec 14, 2012 11:07 am
- Fri Dec 14, 2012 11:07 am
#488655
*theflyingbadger turns and walks away, slightly melancholic music plays in the background. He stops. Looks wearily over his shoulder, sighs and bows his head, and then sets off into the distance.*
dimtimjim wrote:We've had a similar theme running in our house since November when 'er indoors eldest said she wanted a new BlackBerry for Christmas - hence repeated shouts of "PHONE" at the mildest sniff of being outa line..!
theflyingbadger wrote:My eldest put in his demands for a squirrel?!
*Shouts "Squirrel"*
"He was once was a badger. Now he's a moron."