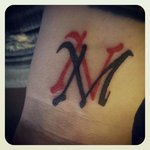 - Thu Apr 26, 2012 8:35 pm
#463783
Today's Tedious Link:
The Monkees, I'm A Believer
Today's Transcript:
Chic bassist Nile Rodgers produced many of Madonna's early singles. Singles are the opposite of couples in the world of dating. Dating of a different type is what archaeologists might have to do with fossils. Fossils can be crushed into fossil fuels like coal and oil. Oil is what makes parts of the Middle East very rich. Rich is a word associated with tea in the world of biscuits. Biscuits in America are known as cookies, like those eaten by Cookie Monster on 'Sesame Street'. 'Sesame Street' is where you'd find Mr Snuffleupagus and Big Bird. A big bird is also how you might describe Brigitte Nielsen, who used to be married to Sylvester Stallone, whose mum Jackie has done 'Celebrity Big Brother', as has Pete Burns. Pete Burns caused a controversy while in the 'Big Brother' house that looked like it was made from monkeys, which links to The Monkees and 'I'm A Believer'.
Flaws:
Nile Rodgers was the guitarist in Chic rather than the bassist, and Pete Burns' coat was rumoured to be made from gorillas, which technically aren't monkeys.
Tedious Facts:
Released - January 1967
Highest UK Chart Position - #1
Bas wrote:She's the Tina Daheley of chrismoyles.net
Missed any of Dave's Tedious Links? Catch up with my Tedious Links 2010-12 page here