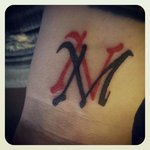 - Wed Aug 01, 2012 8:28 pm
#471762
Today's Tedious Link:
Manic Street Preachers, Everything Must Go
Today's Transcript:
Bob Marley shares the same first name as Bob Holness, the legend behind 'Blockbusters'. 'Blockbuster' was the title of a hit for The Sweet. Sweet is often combined with sour in the world of Chinese cookery. Chinese cookery is the cuisine you'd associate with Ken Hom. Ken Hom shares the same initials as Katie Holmes, who's married to Tom Cruise, who was in 'Rainman' with Dustin Hoffman, who was in 'Meet The Fockers' with Ben Stiller. If you remove the first letter if 'Stiller' you get 'tiller', which is a thing on a boat used for steering. 'Steering' rhymes with 'peering', which is what you might do through a window. Window boxes are nice for keeping flowers. 'Flowers In The Window' was a hit for Travis. Travis, first name Dave Lee, has a beard. Beards can be popular with men with no hair on top of their head, as an alternative to a wig. If you owned a shop selling wigs and had to close down and sell off all the wigs you'd probably put a sign in the window saying 'everything must go', which links to Manic Street Preachers and 'Everything Must Go'.
Flaws:
Seamless link.
Tedious Facts:
Released - August 1996
Highest UK Chart Position - #5
Bas wrote:She's the Tina Daheley of chrismoyles.net
Missed any of Dave's Tedious Links? Catch up with my Tedious Links 2010-12 page here