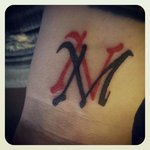 - Fri Sep 04, 2009 6:41 pm
#435906
Today's Tedious Link:
Chemical Brothers, Let Forever Be
Today's Transcript:
Seven days in the sun is what you might describe as a week away. Away is the opposite of home in the world of team sports like football and rugby. Football and rugby are two examples of sports which require the wearing of boots to stop you from slipping over. The plural of 'over' is 'overs', which are what you have in cricket, which is a game where they also stop for tea. Tea is a drink made from tea leaves, which grow in places like India or China. China has many languages, with Mandarin Chinese being well known for being the most widely spoken language in the world. 'The World Is Not Enough' is a James Bond film which I think starred Pierce Brosnan. Pierce Brosnan is famously Irish, and in that respect shares something in common with Terry Wogan and Graham Norton. Terry Wogan and Graham Norton have now both hosted Eurovision, which takes place every year and showcases some of the worst singing and musical talent in Eastern Europe. Europe is where Oasis have performed many times over the years, but possibly never again as Noel has left the band, possibly to pursue other musical projects, and in the past he's worked with other people such as the Chemical Brothers, which links to The Chemical Brothers and 'Let Forever Be'.
Flaws:
Pierce Brosnan did indeed star in 'The World Is Not Enough', so seamless today.
Tedious Facts:
Released - August 1999
Highest UK Chart Position - #9
Dave's third choice by the Chemical Brothers this year - we heard Star Guitar ten weeks ago and Setting Sun around five months ago.
(N_Red)
Bas wrote:She's the Tina Daheley of chrismoyles.net
Missed any of Dave's Tedious Links? Catch up with my Tedious Links 2010-12 page here