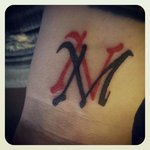 - Mon Mar 07, 2011 7:52 pm
#436156
Today's Tedious Link:
Massive Attack, Unfinished Sympathy
Today's Transcript:
Green Day are made up of three members, and in that respect share something in common with N-Dubz. N-Dubz' Dappy is distinguishable from the other two because he always wears a ski hat, even in the summer. 'Summer Lovin'' is a song from the musical 'Grease'. Greece is a nice place to go on holiday because of its favourable climate and laid-back locals. Locals of a different type are what you'd like a lot of if you were a publican. A publican shouldn't be mistaken for a pelican, which is a type of sea bird that can carry fish in its large gullet. 'Gullet' in Dutch would probably be 'Gullit', as in Ruud Gullit, who was a former manager of Chelsea and Newcastle United. Newcastle United are the team of choice for Ant & Dec, who used to work with Cat Deeley, who's from Birmingham. If you were to drive 87 miles South-West of Birmingham you'd get to Bristol, which is where Massive Attack are from, which links to Massive Attack and 'Unfinished Sympathy'.
Flaws:
Dutch for 'gullet' is actually 'slokdarm'.
Tedious Facts:
Released - February 1991
Highest UK Chart Position - #13
(N_Red)
Bas wrote:She's the Tina Daheley of chrismoyles.net
Missed any of Dave's Tedious Links? Catch up with my Tedious Links 2010-12 page here