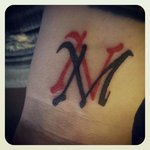 - Tue Nov 16, 2010 7:48 pm
#436106
Today's Tedious Link:
The La's, There She Goes
Today's Transcript:
George Micahel is of Greek origin, and in that respect shares something in common with Jennifer Aniston. Jennifer Aniston used to go out with Brad Pitt, who starred with Tom Cruise in 'Interview With The Vampire', which also starred Kirsten Dunst, who went out with Razorlight frontman Johnny Borrell. Johnny Borrell is no relation to Paul Burrell, who was Princess Diana's butler and went on to appear in 'I'm A Celebrity Get Me Out Of Here', which started up again last night with Stacey Solomon. Stacey Solomon is from Dagenham in Essex, which is probably best known for its large car assembly plant. A plant of a different type is something that you need to get your neighbour to water if you're going on holiday, otherwise it will most likely die. 'Die Another Day' is the title of a James Bond film. A film is made up of a load of actors, who are normally referred to as the cast. Cast were a Liverpool band in the 90s, and Cast frontman John Power used to play bass in The La's, which links to The La's and 'There She Goes'.
Flaws:
Brad Pitt and Jennifer Aniston were married, not just dating. Also, it's unlikely that Johnny Borrell and Paul Burrell would be related, as their names are spelled differently.
Tedious Facts:
Released - November 1990
Highest UK Chart Position - #13
(N_Red)
Bas wrote:She's the Tina Daheley of chrismoyles.net
Missed any of Dave's Tedious Links? Catch up with my Tedious Links 2010-12 page here