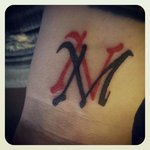 - Tue May 26, 2009 9:12 pm
#435856
Today's Tedious Link:
Coldplay, Clocks
Today's Transcript:
Kasabian are from Leicester, which is also where Gary Lineker and Willie Thorne are from. Willie Thorne is what they call 'folically challenged', which means that technically he's a baldie. If Gary Lineker was bald, which he's not of course, he might be called a 'Gary-baldie', which is also the name of a biscuit. The plural of 'biscuit' is 'biscuits', which are a nice thing to eat with a cup of tea in the afternoon. The afternoon is when the Continentals go for a kip in order to recharge their batteries, and this is known as a 'siesta'. If you swap the first letter of 'siesta' for an 'F' you get 'fiesta', which is a type of festival and also the name of my great friend Carrie's car. 'Carry' is what you have to do with shopping bags when you've been to the supermarket. A supermarket is just like a regular market except that it's way bigger and more super, with lots of checkouts and lots and lots of tills, and if you remove the last three letters of the word 'tills' and replace them with 'C' and 'K' you get 'tick', which is the Irish word for 'stupid', and also the noise made by clocks, which links us to Coldplay and 'Clocks'.
Flaws:
Nothing to report today.
Tedious Facts:
Released - April 2003
Highest UK Chart Position - #9
(N_Red)
Bas wrote:She's the Tina Daheley of chrismoyles.net
Missed any of Dave's Tedious Links? Catch up with my Tedious Links 2010-12 page here