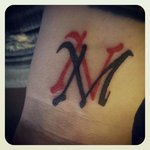 - Mon Jul 30, 2012 10:14 am
#471482
So I'm starting the book thread. What are you reading at the moment, what have you read recently that you'd recommend?

My recent reads:

It's Not Me It's You - Jon Richardson. Very funny and sad at the same time, especially if you saw his recent C4 doc on OCD. The final chapter made me cry!

Hope and Glory - Stuart Maconie. I love his writing. For all you football fans, the chapter on football is great.

How To Leave Twitter - Grace Dent. A shortish but very funny book about Twitter, definitely recommended for all tweeters.

How To Be A Woman - Caitlin Moran. I'm still in the middle of this and though I don't agree with all her arguments, it's funny and well written and has made me think a lot. I'd actually recommend this to men as well as women!
Bas wrote:She's the Tina Daheley of chrismoyles.net
Missed any of Dave's Tedious Links? Catch up with my Tedious Links 2010-12 page here