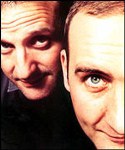 By
DC
- Tue Jul 09, 2019 12:24 am
- Tue Jul 09, 2019 12:24 am
#513765
Been a long time since I've been on here, and I'm not sure if this may have been posted before (a quick search shows nothing). Nor am I sure the person who uploaded these is registered on here or not.

But anyway, I stumbled across this on youtube. It's something I haven't heard for almost 19 years but quite a find. Chris Moyles on the afternoon of 9/11, more or less the entire show (with music chopped out). Also included is some recordings of the following days, quite a listen to be honest.

I've set the video to start at the time of the 9/11 show, the recordings of the events in total run until 3hrs 47 mins into the video. Worth checking out the channel as there's lot of classic afternoon show recordings on there too circa 2000-2003.



"can yer back off the mic a bit!"