By
Chris
- Wed Oct 01, 2003 12:52 pm
- Wed Oct 01, 2003 12:52 pm
#122699
Forum Rules
Please read and respect:
No 'txt speak' - please use proper English (this includes the prohibition of the phrases 'lol', 'end of' and 'Fact.')
No advertising or referral links - this includes potentially competitive sites (would Tesco allow Asda to advertise in their store?)
No web addresses as user names
No embedded Flash animations unless there's a good reason
No purposefully getting around the swear filter - if you're happy to read it you can disable it in your User Control Panel
No pornography (we get kids visiting)
Avatars & Signature Images
Signature size: Maximum of 468 x 100 pixels, and 100 kbytes. If you are using text
instead
of a graphic then it should be limited to two lines only.
Avatars should be no bigger than 150 x 150 and less than 60 kbytes. This is to avoid long download times for board members on slow connections. Please check the filesize of any animated gifs.
If you don't understand what that means, see the examples: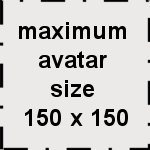 Please change your avatars if they don't comply with the guidelines. It's for everyone's benefit - especially users on mobile devices.
If a message board is to be a success, it has to be full of things that many people find interesting, want to read or want to contribute to. It is not a substitute for normal human interaction, and is not a way for kids to send messages to one another when they are in class. If you have nothing of general interest to say, say nothing.
Personal insults, private conversations, and items that only mean something to a very small number of friends do not belong on chrismoyles.net. If you must argue, take it to the appropriate forum (The Ramble Section).
We ask that users restrict themselves to a reasonable number of posts per day. This limit has been set to 100.
Please read, take note and take care. I will stop people from posting who persistently break these rules (or any other rules I deem necessary to enforce in order to promote harmony on the message board).
Finally, you are responsible for your own actions on this board. If you post something libellous or otherwise illegal, you take the heat, not us. That's what the big long disclaimer that you agreed to when you joined the forum said. We'll warn you now - if you persist in being abusive towards other board members we will publish your email address for those members to continue their arguments with you off-line once you have been banned. Now that's only fair, isn't it?
Here are the current rankings. These appear under your name depending on the number of posts you have.
0 - 24 I'm New
25 - 89 I'm Quite New
90 - 149 Almost Regular
150 - 499 I'm a Regular
500 - 749 I Post a Lot
750 - 999 Busy Posting
1000 - 1999 I'm Always Here
2000- 2999 I'm Addicted
3000- 3999 I'm Very Addicted
4000 - 4999 I Really Post Lots
5000+ Super-Poster
Although the administrators and moderators of this forum will attempt to remove all objectionable messages, it is impossible for us to review every post. All messages express the views of the poster and chrismoyles.net will not be held responsible for the content of any message. We do not vouch for or warrant the accuracy, completeness or usefulness of any message, and are not responsible for the content of any message. If you find a message objectionable, please contact us and inform us of the problem. Any message that does not conform with the policy of this service will be edited or removed as soon as is practicably possible.
Chris.