Past Team Members
Rachel Jones:
Rachel Elizabeth Jones was the producer of The Chris Moyles Show - and the longest serving of any of Chris's previous producers.
She was born on March 29th 1974 in Kidderminster, Worcestershire. She went to school there, at Wolverley High (not The School Of Rock), before moving on to further education at Kidderminster College. Rachel took A-Levels in History, Home Economics and Combined English Language/Lit, before moving to Bournemouth University to study for her degree in 1992. She graduated three years later with a BA (Hons) in Media Production, completing her studies with a one year journalism course in Falmouth. She started out reading traffic and travel on local radio, and also did work experience on her local paper, The Kidderminster Shuttle. Whilst at university Rachel worked on student magazine NERVE.
In summer 1997 she joined Radio 1 as a broadcast assistant - helping out across the schedule on various shows. She first worked with Chris Moyles a couple of years later on his Saturday Mid Morning Show, and became a permanent fixture alongside Producer Richard Murdoch, Chris and Dave. Rachel would pick the callers for features such as Girls Going To Football and Gargling, and take part in popular feature Hello.. I'm Listening!. Her infectious laugh soon helped make her a popular member of the team.
In June 2001 Richard left the programme, so Rachel took over as producer. The show ended three months later, replaced by Jamie Theakston. Rachel went on to produce a series of other weekend shows, including Backstage, Colin and Edith and Scott Mills. She also deputised for Will Kinder, filling in as producer on Chris's weekday afternoon programme when Will was on holiday.
Rachel took over as producer on Monday September 29th 2003, following Will's departure to TV company Tiger Aspect Productions. Just nine days later the announcement was made that the show was moving to Breakfast, and she was part of the team that launched the new programme in January 2004. Since then, she's opened the lines for Car Park Catchphrase in her own unique way, become a man in her alter ego Tranny Rachel - and been constantly impersonated by Chris. Some of her most memorable moments include the time Chris impersonated her weekend in Paris, and the time her stalker was on the show.
In 2006 she was named UK Radio's Producer Of The Year by the British Radio Awards, and was part of the team that won a Gold Sony Award for Entertainment.
Rachel is a football fan and famously supports Conference team Kidderminster Harriers, and has done since she was 16. She doesn't describe herself as a die-hard supporter, but took the whole team to see them play Macclesfield Town in September 2004. Rachel produced the outside broadcasts from Euro 2004 and World Cup 2006, and was part of the Red Nose Rally team that toured the UK for Comic Relief. In January 2005, she appeared in a photoshoot for mens magazine Zoo, where she declared her "boobs are bigger" than those of Abi Titmuss. Her TV credits include Reverse-A-Word on Challenge TV and BBC1's Top Of The Pops. She has been seeing her current boyfriend Mally since 2005, and says of her future: "I am an ambitious person and I would like to go into management in radio, or try my hand at American radio to add more strings to my bow".
Rachel Jones Trivia:
- She appeared on Blue Peter dressed as a penguin when she was eight years old.

- She is often on the Weight Watchers points diet, and likes a good detox.

- She likes Um Bongo and knitting.

- She fancies Brad Pitt and George Clooney.

- In 2006, she went skydiving with the Red Devils.

- Oh, and she's run the London Marathon dont y'know.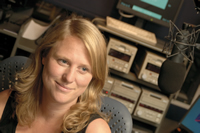 Carrie Davis:
Carrie Davis was the Newsbeat sportsreader/sport monkey on The Chris Moyles Show until leaving on maternity leave in 2010.
Carrie was born in Barnstaple, Devon on June 24th 1976. She attended school at Queen's College in Taunton from 1989-1994, obtaining 3 A-Levels. After taking her degree and then a post-graduate diploma, Carrie joined the BBC in London.
Originally Carrie was at Radio Five Live and BBC News 24 - reading/presenting sports bulletins. In 2001/2002 she began reading bulletins on other national networks, including on Radio 2 with Steve Wright and on Radio 1 during Chris's afternoon show. At the time, he used to flirt outraegously with her, and refer to her as "Oooh Carrie Davis" (a reference to an old Gary Davies Radio 1 jingle).
In June 2004 Carrie returned to the show, standing in for Juliette Ferrington for two weeks while she was in Athens covering the Olympics. When Juliette moved back to Five Live full time a few months later, Carrie joined the show permanently. Her first show was on Monday October 18th 2004. When she went on holiday the following February, a week of special sportreaders filled her place - including Ray Stubbs, Abi Titmuss, Garth Crooks, Mark Bright and Mark Lawrenson.
Aside from her work on Radio 1, Carrie also presents the sports news on TV in the BBC London region. She also works part time for the BBC's Football Focus, Match Of The Day 2 and Score programmes, producing packages/interviews and live football reports. She is an avid fan of Chelsea FC, although she assures us she's not a glory hunter. Carrie ran the Great North Run in 2005 and was part of the team that travelled out to Germany to cover England's (lack of) progress in the 2006 World Cup. In November 2005 she interviewed David Beckham for the show.
Carrie is also a massive fan of horses, and has been since she was 7 years old. She is patron of the Veteran Horse Welfare (VHW) charity, which helps fund the welfare of older horses. She says she tries to go riding whenever possible and that "nothing can beat a gallop on a beach to blow away those cobwebs".
Carrie Davis Trivia:
- She classes interviewing Jose Mourinho as one of her most memorable moments.

- She is very ticklish.

- Her ambition is to present Match Of The Day.

- She spends her time off playing golf, snowboarding and rollerblading.

- In 2006, she went skydiving with the Red Devils.

- She claims her most embarrasing moment was falling over whilst being sick on the M40, whilst drunk.

JOCELIN STAINER (2005-07):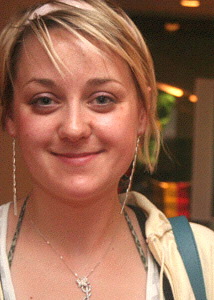 Jocelin Stainer was the "assistant producer" of The Chris Moyles Show, which involved answering the phones, making the tea and - she's keen to point out - assisting Rachel and Aled in getting the show to air each morning.
Jocelin (or Joce for short) was born in Belfast, Northern Ireland on 21st June 1980 and has a twin sister called Barbara. She joined Radio 1 in September 2002 as one of two trainees on the BBC Talent scheme. She spent her first eighteen months moving around shows, completing her first long placement on the Jo Whiley programme. In early 2004 she joined the all-new Chris Moyles Breakfast Team as daytime BA. However, with (then day producer) Will Kinder away working on other projects, and Aled promoted to his job in the short term, she spent most of the year depping as show BA. She joined the show full time in June 2005 and has now been promoted to the role of "assistant producer".
Although she doesn't speak on air that often, Joce is the "unsung hero" behind the scenes. For example, she was the person who used to pick the (notoriously stupid) callers for Car Park Catchphrase. She was also part of the team in Portugal and Germany, for the shows coverage of England in Euro 2004 and World Cup 06. She says she classes Portugal as one of her highlights to date, as "the studio was in the living room. Getting up was never easier!". Since joining the show Joce has had the opportunity to attend many glamorous award ceremonies, including the Tric Awards and the Sony Radio Awards (where the show won gold!).
We also know she has a cute laugh, can't pronounce certain words properly - and was once caught by Chris going into the toilet with his cup of tea. She maintains she was just pouring excess liquid down the drain.
Jocelin Stainer Trivia:
- Her favourite colour is mint green.

- Her favourite drink is Baileys On Ice.

- She is good friends with Tash (the Assistant Producer on One Music who used to work on the Moyles show) and Becci (who is Edith & Jo Whiley's Assistant Producer)

- She has worked as part of the team behind Radio 1's Ten Hour Takeover.

- She is currently attached - sorry fellas!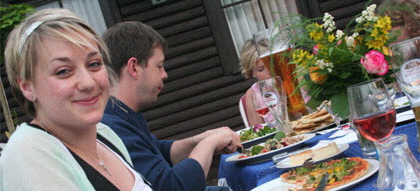 NATASHA LYNCH (2005-06):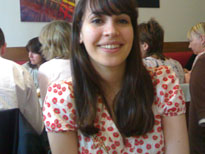 Natasha was the most recent member of the team to leave the show, when she moved over to One Music in June 2006.
Although she worked full time on the show for roughly a year, we never really found out too much about her. What we do know is that she's a vegetarian, used to work with Zane Lowe - and is crap at predicting football results. So much so that in 2006 she twice lost Radio 1's sweepstake Pucker Up For The FA Cup and had to kiss both Comedy Dave and Edith Bowman as punishment!
Natasha's only appearance on air was on September 30th 2005 (you can hear it here in the Sound Vault) as part of the teams "end of term" games day. Her quiz was called Animal Bingo.
ROY WALKER (2004-06):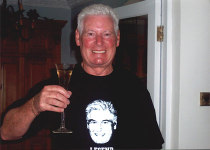 Although not a real member of the team, or an actual employee of Radio 1, famous Ulster comedian Roy Walker made daily appearances on The Chris Moyles Show for over two years.
He was the voice behind the hit quiz Car Park Catchphrase, and its less successful follow up Beep Beep Busters. Roy would pre-record a series of (very funny) soundbites that Chris would then play out. They included: Frankly, I'd rather stick a fork in my eye!, What a numpty!, It's not really my sort of thing!, I like the sound of that! and When's Aled leaving?.
Roy has also been a guest on the show twice - first in the studio in July 2004 (presenting a live version of CPC) and then as a surprise guest for Chris's 32nd birthday in February 2006.
The final edition of Beep Beep Busters was aired in April 2006, although there are rumours it may still return at a later date.
WILL KINDER (2000-05):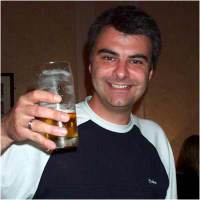 William Martin Kinder was producer of The Chris Moyles Show from November 2000 until September 2003, and probably the most well known (and most popular) of Chris's producers at Radio 1.
Will was born in Woking, Surrey in 1969 and first got into radio by presenting and producing on local stations County Sound and Radio Mercury (click to hear that jingle). A move to London's Heart 106.2 followed, where Will took up his new role as promotions producer. He was then promoted to produce Heart's Breakfast Show, where he won a Sony Gold for Best Breakfast & Best Promotion.
Will joined Radio 1 in November 1997 to produce The Zoe Ball Breakfast Show. After Zoe's departure, Will piloted and launched the next Breakfast Show with Sara Cox in April 2000. He left the show soon after to produce Emma B and Jamie Theakston at the weekends, before finally joining the Chris Moyles team in winter 2000.
He was soon christened "Greyhead" and told to shut up a lot. His blatant incompetence as producer often created some of the shows greatest moments. Classic features included Bang Will's Head Against The Studio Window, Will Kinder's Friday Night Chuckle, Sport Talk and (the now legendary) Fire At Will.
Will famously fancied Myleene from Hearsay, and recorded a duet with her in 2002. His vocal talents were also showcased as MC Greyhead, and as part of the teams Bigger Brovaz rap. Will also had his own theme music, which was then remixed by hundreds of listeners. The best mixes can be found in our Sound Vault.
Other favourite moments include the time Busted renamed him Greyhound, and the time Noel Gallagher famously told him to shut up and make Chris a cup of tea.
Will oversaw the teams' roadtrip to America in 2002, and was part of the team that won a Sony Bronze for Daily Music Show of the Year. He left the show on September 26th 2003 to join Tiger Aspect Productions, a television production company based in Soho, London. He couldn't stay away for long though, and rejoined the show shortly after as Breakfast Day Producer.
After spending time on the road for the Red Nose Rally, Will finally left the show in June 2005 to work on online projects - part of a push to improve and deliver better online services to accompany BBC television and radio output.
JULIETTE FERRINGTON (2004):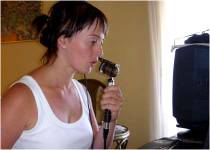 Juliette Ferrington was the original sport monkey when The Chris Moyles Breakfast Show launched in January 2004.
She went to Staffordshire University and started her radio career at the age of 18 on BBC Radio Shropshire. A stint at Radio Stoke followed, before she joined Five Live in 1999. Jules became a sports reader on four of the five core BBC radio networks, and regularly read on Chris's Radio 1 afternoon show.
She became instantly famous with Chris for her exploits at sausage parties (click here) and a couple of years down the line, he invited her to join the new Breakfast team.
During her nine month stint on Breakfast, highlights included her trip to Alton Towers and (lack of) karaoke skills. Jules also broadcasted live from Athens from a month, whilst covering the Olympics for Five Live.
She eventually left the show in October 2004, to take up a new role as Five Live's North of England football reporter.
On her final show, Chris played her some of her best bits, in a Big Brother stylee. The team also wrote and sang her a tribute to the tune of Dire Straits' hit Romeo + Juliet - click here.
Juliette has also worked for BBC London 94.9 and Football Focus, and is now the roving reporter on the BBC's TV Darts coverage.
SCOTT CAWLEY (2001-04):

With the Radio 1 website rebranded as Radio 1 Online, and the show getting a new mini-site, Geordie kid Scott Cawley started making regular appearances on the show in February 2001.
Then third in command amongst the web team, Scott was also the moderator of the chatrooms run by Radio 1 whilst Chris's show was on the air. Moyles and Dave sooned christened this Geekchat.
A move away from Online followed, but Scott rejoined The Chris Moyles Show again at Breakfast in 2004 - working behind the scenes.
He then left for good on April 2nd 2004 (hear him get his leaving present here), moving to Radio 2 to work on the Interactive side of the new Chris Evans Saturday Show.He was later credited when Evans was named Music Radio Personality Of The Year at the 2006 Sony Awards.
LIZZIE BUCKINGHAM (2001-02):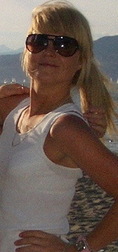 Elizabeth Suzette Buckingham, aka Lizzie, was formerly the shows' broadcast assistant.
She became hugely popular in her brief time on the show, where she worked alongside Chris, Dave and Will. Lizzie was born in Southport in March 1978, and worked first with Jamie Theakston before joining the Moyles team in January 2001.
Her infectious laugh and famous catchphrase quickly made her a hit with the audience. Stories of her drunken antics regularly made it to the air, in particular the times she managed to set fire to John Peel's coat, and spit wine all over his jumper. She even had her own feature Dizzie Lizzie, and showcased her vocal "talents" on a Beatles' ballad with Aled.
In 2001 Chris and Dave launched a campaign to get Lizzie into FHM's Top 100 Sexiest Women List, which although unsuccessful, did manage to secure her a photoshoot along the way. See the famous picture of her in FHM's June 2001 addition here (and yes, her arm does look strange in that shot).
The following year Lizzie was part of the team that travelled to America for the teams' roadtrip, where she interviewed the Bunnies at the Playboy Mansion (pic here).
In September 2002 Lizzie left to become the producer of Scott Mills' Early Breakfast Show. She then produced Nemone before leaving to go and live in Canada.
She currently lives in Vancouver - see her MySpace page (where the above photo is from).
JON CULSHAW (1998-02):
Jonathan Peter Culshaw was the resident show impressionist from 1998 until 2002, popping in every Friday to join the team.
Jon was born in Ormskirk on June 2nd 1968, and began his career in hospital radio there. He became a DJ on commercial radio, working for Red Rose FM (now renamed Rock FM), The Wave 96.5, Pennine Radio and Viking FM in Hull (jingle).
He was persuaded by a receptionist at Viking to go onstage with his impressions and make it his living. He duly did, appearing on Radio 2's It's Been A Bad Week and as one of the voices behind Spitting Image.
However it was in 1998 whilst working with Steve Penk on London station Capital FM that Jon rose to fame. Impersonating William Hague, Jon succeeded in contacting Number 10 Downing Street and being put through to Tony Blair. He said of the incident: "We never expected to get past the switchboard so I didn't really have anything prepared". The pair spoke for several minutes, before Blair sussed something was up.
Jon soon transferred to work with Chris, and the rest is history. His long list of impressions include Frank Bruno, George W Bush, Tony Blair himself, Pete Tong, Ozzy Osbourne, Chris Tarrant and Patrick Moore.
In our Sound Vault there is an entire section dedicated to Jon's spoof phone calls on the show, including Shaggy ringing taxi ranks, and Des Lynam ringing random Germans (amongst many more). Jon has also recorded a selection of parodies for the show, including his takes on Afroman, Bob The Builder and Touch & Go.
One of Jon's most memorable moments on the show was when he made a series of calls as Frank Bruno to Lennox Lewis - on the eve of Lennox's big fight, with Lennox becoming more and more irate. The show received a barrage of messages asking them to leave Lennox alone, although it was then revealed that the calls had been pre recorded, with Culshaw playing both parts.
Jon began work for BBC Radio 4's Dead Ringers in January 2000, a show that then progressed onto BBC2 in 2002. Jon has also since presented his own shows Alter Ego and The Impressionable Jon Culshaw for ITV1, as well as Jon Culshaw's Commercial Breakdown for BBC1. He also provided the voices for 2DTV.
Comedy Dave says Jon looks a bit like David Burrows, who used to play for Coventry City.
RICHARD MURDOCH (1998-01):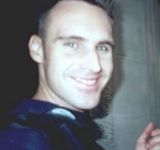 Richard Murdoch, aka Count Drunkula was the former producer of Chris's Saturday Mid Morning Show.
He was unique from all the rest of Chris's producers at Radio 1, because he refused to speak on the air.
Richard left the show in June 2001 and went on to produce Sara Cox on the Breakfast Show, often referred to by the name Disco Dick.
Richard is occasionally mentioned on the show, and won a Sony Bronze in 2002 as the producer of Radio 1's Eminem Show-Offs. Apart from that, we don't know much about him - except from the fact he supports Nottingham Forest.
SIMON HOLLIS (1998-00):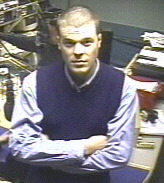 Simon Hollis, aka Melinda, was the broadcast assistant on the show for just over a year in the late nineties - part of Radio 1's Very Own Delta Force alongside Chris, Dave and Rhys.
He was nicknamed nicknamed "Melinda" because he used to work in a mail room.. ergo a messenger.
He was born in St Peters Hospital, Chertsey and used to be in the Royal Marines. We never really knew that much about him when he was on the show, except for the fact he was tall and (at the time) dating Caprice's personal assistant.
He also used to sing lots on the show, like on this version of Eminem's "My Name Is.. (Melinda)" (clip here) alongside Chris and Dave. Other songs included his take on and Abba and Auld Lang Syne.
Mel was also part of the Roadshow and One Big Belly tours, plus part of the travelling crew at Euro 2000. He supports Chelsea.
In December 2000 Melinda left the show, and six months later left the country. He moved to Australia, where the team famously gave him an early wake up call - courtesy of Comedy Dave pretending to be David Beckham.
We think Simon is now back at the BBC and working as a producer for Radio 4, but that might be a different Simon Hollis!
RHYS HUGHES (1999-00 - Returned 2005):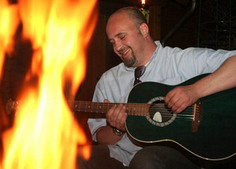 Rhys Hughes was show producer from June 1999 until October 2000, and now works as one of four executive producers at Radio 1 - looking after JK and Joel, Scott Mills and Moyles.
He is the first level of management and regularly meets with Ben Cooper (see below) and Andy Parfitt to discuss the direction of Chris's show, and Radio 1 as a whole.
"Chunky" Rhys, from Selby, used to produce Hit The North for the old BBC Radio 5, before joining Radio 1 in 1995. He first produced Nicky Campbell, before being given the task of producing the new Mark and Lard Breakfast Show in February 1997. The show was a ratings flop, and lasted just six months.
"Picknose the producer" then went on to produce Simon Mayo and The Evening Session, before joining the Moyles team.
Like Melinda, Rhys was part of the crew on the last ever Roadshow - plus the One Big Belly tour, and at Euro 2000. One of his greatest moments was in June of that year, when he quit the show live on air (only to return half an hour later).
He also used to dress up on the webcam, with this outfit sticking long in the memory. He left the show in October 2000 to become executive in charge of specialist music at Radio 1, covering the specialist dance shows and John Peel amongst others.
He returned to Chris's show as executive producer of the Euro 2004 Outside Broadcasts, before joining full time as show exec in 2005. When he was show producer, his catchphrases included "Hear Me Now!" and "Helloooo Ladies", both of which he repeated as the team reminisced in May 2006.
Since returning to the show, Rhys has since overseen further OB's in New York and Germany. He was also the bass player in Mark and Lard's spoof band The Shirehorses and is a huge Leeds United fan.
GREG YOUNG (1998-00):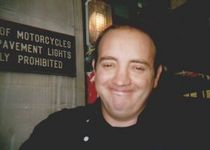 Greg Young, nicknamed Baldie Greg (because of his lack of hair), was a broadcast assistant on Chris's 10-1 Saturday Mid Morning Show.
He joined the show when it launched in April 1998, and departed a couple of years later. He went on to work on Early Breakfast with Scott Mills and in 1999 appeared briefly on Chris's Drive show, having stolen a chocolate from the Radio 1 Advent Calendar (clip here).
Greg was also personal assistant to Judge Jules, and the old producer of his Saturday Warm-Up slot. Bar that we don't really remember much about him, sorry.
BEN COOPER (1997-99):

Benjamin Michael Cooper joined Moyles a few months after Chris started at Radio 1, producing his Early Bit show on weekday mornings.
He was born on December 8th 1969 in Bromsgrove, and following the completion of his studies in Brighton, began a career at BBC Hereford & Worcester. There he presented the early show, before training as a journalist and working as a reporter on the station. In 1994, Ben moved to BBC Three Counties Radio, hosting Drivetime before becoming a producer.
He joined Radio 1 in 1997, working with Nicky Campbell. He then joined up with Moyles, replacing previous producer Simon Barnett - who Chris never really seemed to strike up any chemistry with. Joined by Jude (see below), and then Comedy Dave - the team set about revolutionising early morning radio.
Ben called it "soap opera radio that was compellingly edgy". He appeared with Chris in Sky Magazine in summer 1998 (pic here, sound clip here) and also produced Chris's shows in Ibiza. He was part of the team when Moyles sat in for Zoe Ball on the Radio 1 Breakfast Show, and the following October made the switch with Chris to the 4pm Drivetime Slot.
In June 1999 Ben left the show to work with Jo Whiley. He then moved to Capital Radio as an executive producer for two years, before being lured back to Radio 1 as Head Of Mainstream Programmes in January 2003. His responsibilities include the appointment and management of daytime DJ's, show content, station sound and promotional campaigns. He was instrumental in moving Chris to the Breakfast Show, and is now referred to by Moyles as his "boss".
JUDE ADAM (1997-98):

Jude Adam was the broadcast assistant on Chris's show when he first started at Radio 1 in 1997, doing the 4-7am shift.
She was on the show for about a year, first working with short lived producer Simon Barnett, and then with Dave and Ben. Classic moments included the time Chris tried to make her cry, and the time she sang Madonna's "Cherish" on The Six O'Clock Moment.
After leaving the show in 1998, Jude worked in a variety of different roles at Radio 1 - including on specialist shows and as part of the One Life department. She won a Sony Bronze as producer of Radio 1 Essentials, and interviewed Bono for World Aids Day. She also briefly returned to Chris's show in 2002 for the competition Vegas Or Bust?.
Since April 2004 Jude has worked as a producer at BBC 6Music - first with Jane Gazzo and now with Steve Lamacq.
She was born in 1973 and is from Aylesbury, Buckinghamshire - and a mad Watford fan.
Her own personal website is here, where the recent photo (above) is taken from.