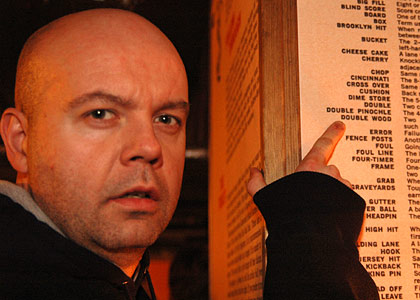 Dominic Anthony Byrne, aka "egg head" or "slaphead", is the newsreader on The Chris Moyles Show.
Dom was born in Norwich on November 10th 1972. He likes to make it known he moved soon after, but to quite where we aren't so sure. He describes himself as "having lived all over the place". After leaving college Dom went to uni in Bournemouth, albeit for just 2 weeks. He was offered a job in a radio newsroom so quit, £1000 in debt after buying a big hi-fi and big TV.
Dom was a freelance reporter before he joined Radio 1 in 1997. He first worked (briefly) alongside Chris Moyles when he read the overnight news on Chris's 4-7am show. This large sound file from October 97 has a snippet Dom of at the beginning of it, talking in his posh news voice. Following work as a Newsbeat reporter, Dom returned to the studio as part of the regular presentation team a couple of years later. He would often fill in for Carolyn Atkinson and read the news on Chris's afternoon show, where he struck up a good rapport with Chris and Dave. They even made him his own advert, voiced by Mark Goodier, advertising "The Greatest Hit Blunders Of Dominic Byrne" - a spoof CD full of his newsreading cock ups. Hear the ad here. Following a move to Entertainment News, he made a brief return to Chris's afternoon show in 2003, particpating in Huey Lewis & The News - an odd short-lived feature that interspersed Huey tracks with the latest showbiz headlines.
Dom joined the show permanently in January 2004. He was part of the team that launched the all new Chris Moyles Breakfast Show, describing the first day as "early, and fantastic". Since moving to Breakfast, Dom has become a hugely popular member of the team - and the source of many funny moments. They include his Hunt For David Hoff in Hawaii, and the time he rang the Eiffel Tower as part of investigative feature Get Dom On It. His spoof feature One Road Travel parodies local radio by just reporting one road a day.
Dom regards his proudest moment so far on the show as performing dressed as a giant dog to 15,000 people at One Big Weekend in Birmingham. This as part of spoof rap band Mouldy Lookin' Stain. He was also the co-founder and singer in popular beat combo Folk Face, who performed in the Jazz Tent at Glastonbury 2005 before sadly splitting. Dom says if he could control the Radio 1 Playlist for one day, he'd have "Folk. Lots of folk". Dom is a huge U2 fan and also does impressions. They includes Jade Goody, Jim Brennan, Tim Westwood, Jools Holland and Ronnie Corbett. Dom has also interviewed many famous celebrities for the show, including Tom Cruise, Gwyneth Paltrow, David Schwimmer, Uma Thurman and Piers Brosnan. He is known for his hard hitting questions, such as "What's your favourite cheese?".
Away from the show, Dom lives with wife Nic. The couple have been married since March 2001 and have two children: son Finton, born in July 2003, and daughter Xanthe, born in November 2005. Chris has nicknamed the former Carpet (as in "carpet burn") and famously told Dom that he should have got an iPod instead of a child.
Dominic Byrne Trivia:
- Despite being from Norwich, he hates the Norfolk accent.

- He is a vegetarian, but eats chicken, duck and fish.

- He goes to France a lot and is bald.

- His head looks like a bowling ball.

- He supports Liverpool FC and his favourite colour is red.

- He likes to visit Whipsnade Zoo and in particular, Barclay the sea lion.

- He once soaked the crotch of radio personality Dave Pearce whilst flipping beer mats.