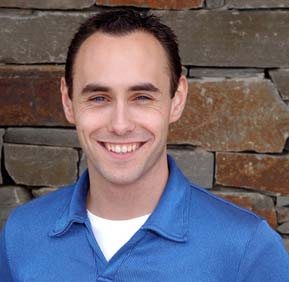 Aled Haydn Jones is officially the "daytime producer" of The Chris Moyles Show. His working day starts at 9am, and his role involves booking guests, editing, researching and preparing content for future shows.
Aled was born on August 9th 1976 in Aberystwyth, West Wales. His family owned one of the town's most popular cafes - Caffi Morgan - and he lived with his parents above the premises. A fluent Welsh-speaker, Aled went to Ysgol Gymraeg Aberystwyth (a Welsh language primary school), before going on to the town's Welsh-medium secondary school, Ysgol Gyfun Penweddig.
Aled began his career in radio at the age of just 14, presenting on hospital radio. He then moved onto community radio, helping out local station Radio Ceredigion when it launched in 1992. After leaving school the same year, Aled signed up for a course in computer programming at his local college, but left soon after to do a BTEC qualification in Media Studies at Swansea College instead.
Aled started his career at the BBC by working as a runner on The National Lottery. He then joined Radio 1 from Television Centre in June 1999 as a broadcast assistant on the Roadshow, during its final year. The demise of the traditional roadshow led to the launch of One Big Sunday in 2000 - a series of open-air concerts held by Radio 1 every week across the UK. Aled was part of the launch team which helped helped book bands and transport for the shows, which is how he first got to know Chris Moyles. A stint working behind the scenes on Chris's One Big Belly tour followed.
That summer a brand new TV show also launched - Channel 4's Big Brother. It was Aled who got Chris hooked on the show, so much so that when the second series launched in 2001, Aled (then working with Dave Pearce) was invited by Chris onto his afternoon show to do a one-off review of the first programme. He ended up staying for the whole series, following every twist and turn of the house and its housemates. He became known as BB Aled, a name that has stuck through the years - even though the shows coverage of Big Brother has gradually decreased.
After working as a sound editor on The Top 40 in late 2001, Aled joined Scott Mills on the Early Breakfast Show as Acting Producer in March 2002. Five months later, Aled left to join Chris's afternoon show on a permanent basis. He took over from Lizzie Buckingham as Broadcast Assistant, hear the switchover here. After a short spell as FA Aled, reporting on Fame Academy, Aled returned to his self-penned job-description, "Chris Moyles's Bitch" in December.
In January 2004 Aled was part of the team that launched the Chris Moyles Breakfast Show, describing the first day as "terrifying yet such a rush. I felt as though the entire world was listening!". Later that year, he was part of download chart toppers Mouldy Lookin' Stain and, in what he described as a "slightly embarrassing" title, he was named Male Rear Of The Year - see the BBC News Archive here. Aled was officially handed his current role as day producer in June 2005, replacing Will Kinder. As of 2006, he also helps choose the music that goes on Radio 1's playlist.
Aled has had some memorable moments on the show in the last few years, including the time he invaded Capital FM - and the time he was blindfolded while Chris and Dave poured Pot Noodle down his back. He has also recorded the song parodies "Show Me The Way To Aberystwyth" and "That's My Goal". On January 28th 2005 the show came live from his home town of Aberystwyth.
Since 2003 Aled's TV credits have included regular appearances as a judge on the S4C Welsh language talent show Waw Ffactor. He has also appeared on Newsnight, Big Brothers Little Brother, as a guest presenter on Top Of The Pops - and famously, as an extra in hit American TV drama 24. He is in the background during Episode 23 of Season 4, when Michelle Dessler is talking to Edgar Stiles on the video phone.
In July 2006 Aled, who couldn't swim until a few months beforehand, swam a mile to raise nearly £69,000 for Sport Relief. He also now has his own personal website, where you can read his regular blogs, and he also posts here at chrismoyles.net. Aled is openly gay and currently in a relationship. Also, despite what you may think, he didn't sing Walking In The Air. That's the other Aled Jones.
Aled Haydn Jones Trivia:
- From the ages of 12-15, Aled won first prize in the Urdd National Eisteddfod for his Michael Jackson disco dancing!

- He has a dog called Mali

- When he lived in Swansea, Aled was shot at twice (no really he was)

- US Basketball star Denis Rodman once threatened to be over and "in his ass"

- His favourite food is chips and beans and his favourite colour blue

- He loves woo-woos (a cocktail made up of peach schnapps, vodka and cranberry juice)