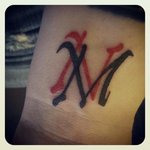 - Wed Jul 15, 2009 8:15 pm
#435881
Today's Tedious Link:
Placebo, Nancy Boy
Today's Transcript:
Oasis are from Burnage in Manchester, as is actor Max Beesley, who's also a percussionist and has played with various people over the years including Robbie Williams. Robbie Williams used to be in Take That and also had a solo career before getting out of the music business to look for aliens. The singular of 'aliens' is 'alien' which is also the title of a film starring Sigourney Weaver. 'Weaver' rhymes with 'beaver' which is a small toothy animal that is good at building dams. Dams are also built by humans to control water and sometimes generate electricity through hydro-electric power. 'Power' rhymes with 'Gower' as in cricket legend David Gower and the Gower Peninsula, which is an area of outstanding natural beauty in South Wales. South Wales is where Cerys Matthews is from who used to be in Catatonia and sung about Mulder and Scully from 'X-Files'. The word 'files' is an anagram of 'flies', which you wouldn't want on your picnic. Picnic is something you only really do in good weather. The weather at the moment is what they call changeable, which means there's a massive chance of rain on most days, and 'Rain' was the title of a forgettable hit by Madonna, who's from America, as is Brian Molko from Placebo, which links to Placebo and 'Nancy Boy'.
Flaws:
There was some discussion as to Brian Molko's nationality following this link. In fact Molko was born in Belgium, but has an American father and was brought up in several countries including Scotland, Lebanon and Luxembourg.
Tedious Facts:
Released - February 1997
Highest UK Chart Position - #4
(N_Red)
Bas wrote:She's the Tina Daheley of chrismoyles.net
Missed any of Dave's Tedious Links? Catch up with my Tedious Links 2010-12 page here