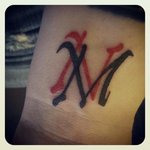 - Mon Aug 13, 2012 9:08 am
#472564
So here is a list of everyone who has made it into the book:

Misfit
Fish Heads
DevilsDuck
Sav1our
GBM
howabout94
Sunny SoCal
Dave in Philadelphia
Ianpwilliams
Kyle1974
Dimtimjim
Dannimaria
Tico987
Timp
Ryanmclfc
Munki Bhoy
Yummytummy
Slaphead1982
BBQ
StarryEyed
Wireman
hels78
Termy
ckirk1610
scornelius7mufc
Travis Bickle
St@rk
Deadly
Johnny1989
Mattso23
Catherine & Toph

If you would like to contribute financially to putting the book together please PM me. But no pressure to do this (I can't stress that enough!) and your submission will go in the book regardless!
Bas wrote:She's the Tina Daheley of chrismoyles.net
Missed any of Dave's Tedious Links? Catch up with my Tedious Links 2010-12 page here