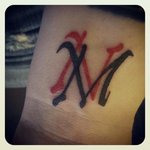 - Sat Aug 20, 2011 1:53 pm
#446738
Right, here is my problem:

Wed 3 August's Link was Kanye West - Golddigger.

On Mon 15 August Sara said at the beginning of the Link, "last time was Queens of The Stone Age, No-One Knows." Thus implying that the Link on Thu 4 Aug took us from Kanye to QOTSA.

I have listened thru my download of Thu 4 from 8.45am (the start of the Superstar DJs final) to 9.45am (the start of CPC) and can't find the Tedious.

Can anyone solve the mystery? Anyone recall if they did the Tedious crazily early that day? Anyone who has the show downloaded - can you find it? Have I gone mental?

This is irritating me severely, so any help appreciated...
Bas wrote:She's the Tina Daheley of chrismoyles.net
Missed any of Dave's Tedious Links? Catch up with my Tedious Links 2010-12 page here